Ten direct ways to improve manufacturing productivity
Analyze causes for downtime and rejects: Record and analyze machine downtime and reject events to minimize interruptions and poor productivity.
Monitor machines in real time: Detect problems before productivity and quality suffers: see real-time displays of efficiency, utilization, OEE, yield, rate, cycle time.
Automate production reporting: Implement automated production data collection and reporting from ALL types of production machines. Print standard and custom reports automatically and export data to Excel, 1-2-3 or Enterprise systems.
Automate production scheduling, job tracking: Reduce time-consuming manual production scheduling and job tracking chores to just a few clicks of a mouse.
Schedule P.M. based on actual machine/tool use: Do not wait for machinery to break or produce scrap before performing maintenance. Instead, be proactive: schedule Preventive Maintenance based on actual machine/tool/component usage: run hours and cycle count.
Analyze manufacturing process variable performance: Monitor temperature, pressure, cushion, shot size, stroke, shut height, tonnage, inject/fill/hold time, etc. Chart as X bar and R or export it to SQC/SPC applications.
Implement OEE/ISO/Continuous Improvement programs: Develop real-world production standards to make job costing accurate. Implement activity based costing, Continuous Improvement and OEE programs.
Manufacturing data collection for ERP, MES, CMMS systems: Close the loop with Enterprise systems: Automatically download production schedules into System's Job Queue, then upload production/performance/productivity and usage data at Shift and Job end.
Export cycle counts and run time to CMMS systems. Eliminate manual "meter" reading and data collection: ProductionACE can export actual runtime and cycle counts to any third-party CMMS/EAM software during the production shift: cycle counts and runtime "meters" are updated in a real-time file.
Read and Print Bar Code labels at each machine as parts are made: Printed labels can contain choice of information such as Product Description, Work Order #, Operator Name, Date/Time, and Lot Number.
Overall Equipment Effectiveness (OEE) metrics of ANY and ALL machines with a direct hardware connection typically increase efficiency by 5 to 20 percent. Memex Automation based in Ontario, Canada, details that automating the information flow companies can manage productivity.
Send ERP or scheduled work orders and/or CNC programs direct to the machine.
Receive actual real-time status and Shop Floor results immediately back to the Top Floor.
Increase efficiency with information - If a company can measure it – then it can be managed.
Dashboard for the Top Floor to have real-time visibility of the Shop Floor.
Automated data collection is a manufacturing productivity tool enabling increased productivity:
Cost Effective
Practical & Proven
All machines - CNC, non-CNC, PLC, Presses, Injection molding, etc.
Many systems suggest they automate shop floor data collection however few technology solutions do so automatically and directly in real-time.
Operator Bar code scanning of work order status and keying in part counts, reject counts, reject classifications, down time reason codes all is inefficient and prone to error.
Memex Automation's Universal Machine Interface automatically tracks this information - freeing up the operator to manage the machine. This information is then automatically disseminated from the Shop Floor to the Top Floor for visibility, management, accountability, historical auditing and available for time study analysis.
Canadian Metalworking recently revealed, "There is a technological shift going on out on the shop floor that is allowing machines to communicate directly with corporate information systems, generating big benefits for companies by increasing their operational efficiency. Applications are available that provide real-time machine monitoring, acquisition of Overall Equipment Effectiveness (OEE) metrics, dynamic computer-aided machining, automatic synchronization of part programs, DNC, work order scheduling, and central control of machine operations."
John Rattray, a Senior Executive with Memex Automation suggested that, "Manufacturing machines that communicate via serial ports run the risk of being not connected to the information highway and consequently being an unproductive asset. When these machines are refurbished with advanced communications technology, a company avoids spending millions on new machines. Extracting operational information from all machines, both new and old, permits a company to optimize its manufacturing processes. Companies that have moved to the Ethernet report a significant improvement in efficiency and cost savings."
ProductionACE is a proven, practical, economical and scalable system for improving manufacturing productivity. It provides real-time machine monitoring, production data collection and reporting, visual production scheduling and job tracking, downtime cause analysis, preventive maintenance and a bi-directional link with ERP systems.
It consists of two components: Machine Data Transducers (MDT) and two levels of Windows Manufacturing Intelligence software: Production Manager and Job Manager.
MDTs are a data display and data collection connection to any production machine. One MDT is installed on each machine. Three basic models of MDT let you match each machine's individual data collection, data display and Operator data entry requirements for the most economical system possible.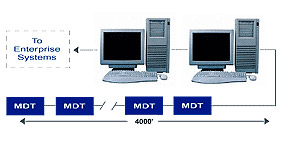 MDT's network to provide plant-wide data collection with a standard Windows PC. Use a standard wired "multi-drop line (t0 4000 feet) or long range Wireless Modem. Standard LAN/WAN/VPN and web browser provides multi-user, enterprise-wide access.
On-machine data collection/display devices: MDT
A Machine Data Transducer (MDT) is a data collection device (with or without an Operator Interface) that easily installs on any machine. Using existing electrical signals in the machine, the MDT units communicate with Memex Automation's ProductionAce Windows software to display real-time data such as:
OEE
Availability
Performance
Quality
Cycle Time
Avg. Cycle Time
Machine Rate
Production Rate
Run Time
Down Time
Set Up Time
Trial/Adjust Time
Good Parts
Reject Parts
Parts to go for job
Hours to go for job
Analog Process Variables:
Temperatures, pressures, tonnage, force, position, liquid consumption, etc.
Time Process Variables:
Dwell, duration, fill, form, inject, hold time, etc.
Down Time Tracking:
Up to 40 Down Reasons, both operator entered and though direct machine connection.
Reject Tracking:
Up to 20 Reject Reasons Operator entered, plus an automatic Reject Input.
Software solutions must be justified. Immediate visibility of production status and comprehensive data collection creates a competitive advantage.
---
Thomas R. Cutler is the President & CEO of Fort Lauderdale, Florida-based, TR Cutler, Inc, (www.trcutlerinc.com). Cutler is the founder of the Manufacturing Media Consortium of three thousand five hundred journalists and editors writing about trends in manufacturing. Cutler is a member of the Society of Professional Journalists, Online News Association, American Society of Business Publication Editors, Committee of Concerned Journalists, as well as author of more than 400 feature articles annually regarding the manufacturing sector. Cutler is also the developer of lean technology C.E.O (Continuous Experiential Optimization). Cutler can be contacted at trcutler@trcutlerinc.com.
---